Learn how to manage your employees working from home during COVID-19 Pandemic.
Hey Managers,
Do your employees love working with you or do they just work for you? Do you mentor and guide them to perform better? Have you left a positive impact on their career?
Each manager must ask these questions to themselves to become a more likeable boss.
According to a Gallup study, more than 50 percent of U.S. employees leave jobs due to poor relationship with their bosses. An unlikeable manager not only impacts employee relationships but becomes a major cause for high employee turnover.
Experts believe that being a good boss isn't only about being nice, cordial or proficient. It is more than that. An American stand-up comedian and actor, Bob Nelson says, "An employee's motivation is a direct result of the sum of interactions with his or her manager."
Good managerial skills require consistent efforts in building a highly productive team in which people are focused, engaged and happy. They provide a work environment where employees realize their full potential, take responsibility of work and continually perform better to contribute in the company's profitability.
Unfortunately, not every team is lead by a good manager.
In the State of the American Manager: Analytics and Advice for Leaders, Gallup estimates that managers account for at least 70 percent of the variance in employee engagement scores across business units. A manager's behaviour and action towards employees impacts the variance, that results in low engagement in most of the cases. Only 30 percent U.S. employees feel engaged at work and only 13 percent employees show high engagement levels worldwide. This shows that majority of the workforce is not engaged enough to perform competently and contribute to a company's success.
As today's workforce is multi-generational (Including baby boomers, Gen X, Y and Z), managers need to be more compassionate when dealing with people. Managing a team with an iron fist no longer works. Adopting new leadership styles, that positively influences subordinates and inspires them to perform better, is the need of the hour.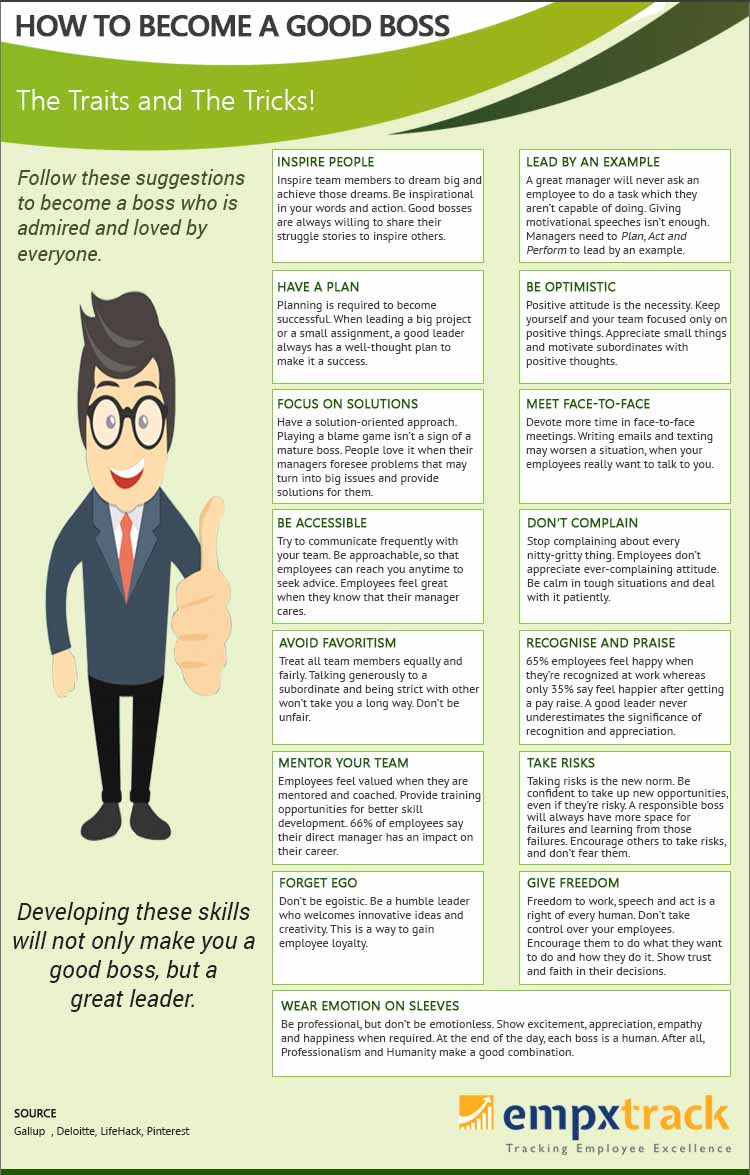 Being considerate, inspirational and leading people is a challenging job. With the above-mentioned tips, you can be on the way to become a good boss and a great leader.