President Donald Trump has made changes to H-1B visa program that intends to bring in highly skilled employees. Trump's administration is looking forward to strengthening 'Buy American, Hire American' policy.
Trump's New 'Hire American' Policy
The first part of the policy calls for the federal government to reinforce 'Buy American' to give preference to buying American products produced domestically. The second part is planned with the intention to encourage hiring of Americans by seeking changes in the H-1B visa program.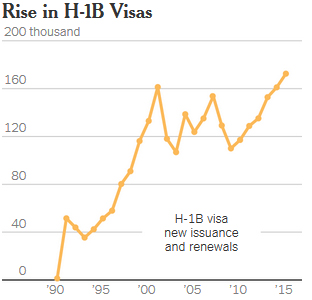 Image published by The New York Times: Rise in distribution & renewal of H-1B visas in last two decades
700+ U.S. recruiting firms, government entities and outsourcing companies have participated in a survey, as stated by Forbes, and asked whether Trump's policy would hurt or help in hiring trends in American tech industry in 2017. Results showed that 77% of respondents expect no change in the hiring plans of tech industry, 11% felt Trump would trigger less hiring and 12% thought he would spur more. H-1B visa enables U.S. employers to hire workforce from other countries on temporary basis. Many have criticized the program as being unfair as it would mean fewer jobs for domestic employees.
Trump's new policy would bring changes to the Silicon Valley companies and other outsourcing giants aiming to call off foreign workers for employment. The potential H-1B visa curb has emerged as the gravest threat in recent times to technology companies, which get as much as 60% of their revenue from the US.
How STEM jobs will be influenced by Trump's recruitment policy?
America's tech companies claim that there is a shortage of skilled and well-qualified workers for meeting needs of scientific and programming jobs. The shortage of talent urges American employers to look overseas for talent, who can be hired and paid less to fulfil STEM jobs successfully.
Undoubtedly, highly skilled immigrants have been committed in working hard and playing a key role in taking companies, like Apple, Google and more, to new heights of success.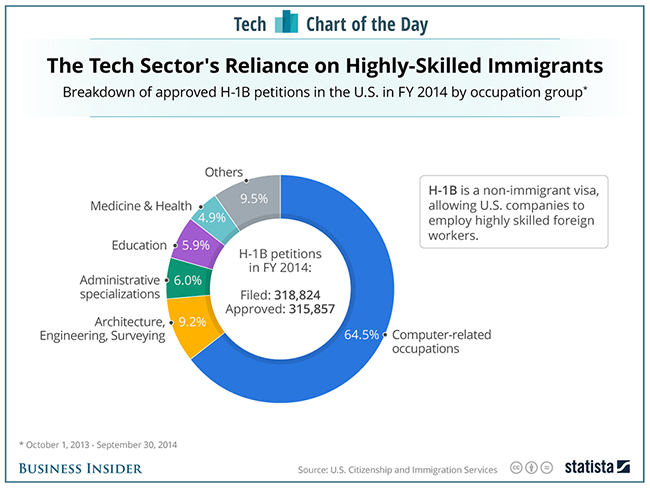 Picture published by: Business Insider
The newly introduced 'Hire American' policy is surely going to bring dramatic changes in the recruitment trends in USA. Since the recruitment spectrum is expected to narrow down, recruiters would face more challenges in sourcing, shortlisting, selecting and hiring suitable candidates, who are skilled enough to meet needs of tech jobs. Filling in key positions with skilled candidates is going to be a challenge for the recruiters. And the cost of hiring an unskilled worker can be enormous to an organization.
Well, "Will Trump's new policy affect hiring in Tech jobs?" remains a question in recruiter's mind.
If you fear upcoming recruitment challenges, make sure to be prepared with a well-structured recruiting & onboarding strategy for your organization. Streamline your organization's recruitment process by embracing HR technology.
Implement reliable online HR tools to automate the applicant tracking and onboarding processes. Support end-to-end hiring cycle with cloud based recruitment software and make your recruitment process more effective!